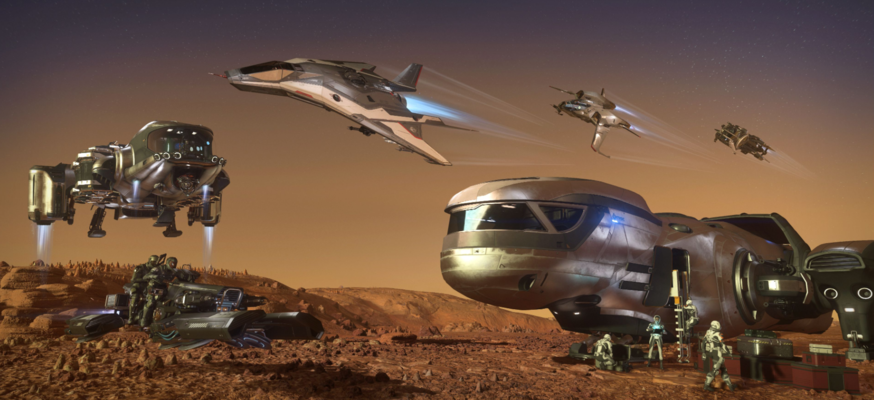 Hallo zusammen,
vom 15. Februar bis zum 25. Februar findet wieder ein Freeflight Event statt. Lasst uns das Event nutzen um neue Leute für Star Citizen zu begeistern. Sagt also am besten euren Freunden bescheid

Hier nochmal die offizielle Meldung von RSI:
Hello everyone,
The Assault on Stanton is in full swing, and many of you have taken charge to protect the system against the XenoThreat incursion. Thanks to the efforts of developers and backers alike, Star Citizen Alpha 3.12.1 is heating up the 'verse, so we'll fuel the fire and keep it burning during this microTech-cold February with a variety of content to look forward to. Read on…
Happening Now!
Dynamic Event: XenoThreat
Alpha 3.12.1 introduced new and exciting backend tech that enables dynamic events in Star Citizen's ever-expanding universe. Going forward, we plan to continue unleashing unique missions and server-wide activities for all to participate. From improving annual events like Invictus Launch Week to enabling patch-exclusive adventures and battles, dynamic events are sure to shake up the 'verse. We're currently in Phase 2 of the event, which means it is up to you and your crew to retrieve and deliver the scattered cargo so the fleet can get back in the fight in Phase 3! Oh, and it might be worth bringing a combat ship to support you in your efforts… Join the CDF today, read on for briefing, and check back regularly at the bottom of this page for updates!
Coramor
Even though the Stanton system is currently fiercely contested, LOVE still finds a way as Coramor 2951 approaches in the 'verse! We asked you to craft an original Star Citizen/Coramor-themed Valentine's Day card for your favorite copilot and prove to them that your heart burns red like an overheated mining laser! Join the fun, share your card with us, and compete to win one of the lovely prizes! We're also bringing back some favorites for you and yours, more details soon!
The Month Ahead!
Free Fly
Get ready for a two-week Free Fly event. Yes. Two weeks! Grab a copilot and take to the skies from February 15 to February 25.

Be sure to share your referral code if you plan on crewing up with a friend to ensure they receive a bonus of 5,000 UEC and you an additional referral point to unlock some sweet rewards.

And if you're a brand new Pilot, check out the Welcome Hub to find all you need to know for your first steps in the 'verse.
Vehicle Experience Team AMA
On Wednesday, February 10 at 9am PST/5pm UTC, you will have the opportunity to ask your most burning questions directly to our Vehicle Experience Team! Get ready for an hour-long Ask Me Anything (AMA) on Spectrum. We will open the thread half an hour ahead of time so you can get your questions in, so start brainstorming!
3.12 Postmortem
In December, we launched Alpha 3.12: Assault on Stanton, which introduced a number of new features and changes, including refinery decks, AI improvements, and gas clouds. Similar to previously released patch updates, you can expect to hear from the senior developers themselves, detailing what was delivered and their thoughts on how it went. As mentioned before, we're committed to transparent development and will continue to provide quarterly patch postmortems going forward.
Red Festival
Red envelopes have been hidden around the major hubs throughout the 'verse. Hunt them down to ensure good fortune as we look to celebrate the Year of the Ram in-game at the 2951 Red Festival. That's not all though, but you'll have to wait for the event to start for more details!
XenoThreat Postmortem
We're looking forward to breaking down the event in detail to talk about what worked, what didn't, and what's next! To help facilitate this, it would be a huge help to hear from you. Post your feedback on Spectrum and report bugs in the Issue Council. In addition to a postmortem, we plan to release a fun infographic, highlighting some of the action that took place throughout the event.
Stanton 7 – The Best Of The Best
Star Citizen is built upon a foundation of community. Therefore, community-organized events are incredibly close to our hearts, and we would like to take the opportunity to shout out a special event on February 27.

The Qualifying Round of the Stanton 7 Racing League will determine the 16 fastest teams in the 'verse, which will then compete for the ultimate championship. Looking for a taste of the action? Check out the epic Stanton 7 Trailer, and head over to their website for more details.
And more…
Quelle: https://robertsspaceindustries…ion/17988-February-Frenzy